Events Calendar
DISPOSSESSION: THE GREAT SOCIAL HOUSING SWINDLE
18 August - 7:30 pm
DISPOSSESSION
PG | 1h 22min | Documentary |
Trailer: https://www.youtube.com/watch?v=2AB7WR97p7s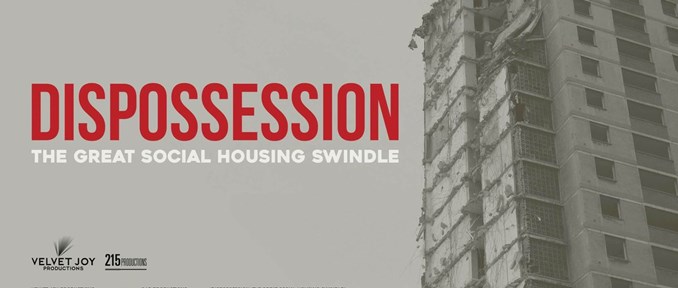 Dispossession: The Great Social Housing Swindle
For some people, a housing crisis means not getting planning permission for a loft conversion. For others it means, quite simply, losing their home. Dispossession: The Great Social Housing Swindle is a feature documentary directed by Paul Sng (Sleaford Mods – Invisible Britain) and narrated by Maxine Peake, exploring the catastrophic failures that have led to a chronic shortage of social housing in the UK.
These failures include government policy that prevents local councils and housing associations from building homes for the 1.4 million people on council housing waiting lists and the quarter of a million homeless people in Britain. Or the deliberate neglect of council estates by local authorities that's used to justify 'regeneration' projects with private developers, which often force those who cannot afford homes in the new properties to relocate to other parts of the country, far from their families and support networks.
With unprecedented access to residents, politicians and experts in the housing industry and media, Dispossession is the story of people fighting for their communities, of people who know the difference between a house and a home, and who believe that housing is a human right, not an expensive luxury.
--
INFORMATION
1980 Right to buy scheme introduced 42% of the population live in council housing
1996 30% of council tenants have exercised this right 2.2 million homes transferred into private ownership
2017 Less than 8% of the population live in council housing 40% of ex-council flats sold via Right to Buy are now rented out more expensively by private landlords
—
£3 billion Surplus recorded by England's largest housing associations in 2015
1.7 million Estimated people on the council housing waiting register that year
—
4,134 Estimated number of street homeless people in the UK in 2016
200,000 Estimated number of buildings which have been empty for longer than six months
Event Date
Fri 18 August - 7:30 pm (Book Here)
This screening will be followed by a Special guest Q&A and post screening discussion.
.